==
Patrick Fritsreld
Character Information
==

Penny's Dad is an Minor Character in The Amazing World of Gumball.
Appearance
Edit
Penny's Dad is much bigger than Penny and much bulkier. He has giant antlers and wears socks and sandals.
Relatives
Edit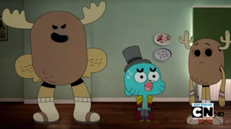 Ad blocker interference detected!
Wikia is a free-to-use site that makes money from advertising. We have a modified experience for viewers using ad blockers

Wikia is not accessible if you've made further modifications. Remove the custom ad blocker rule(s) and the page will load as expected.